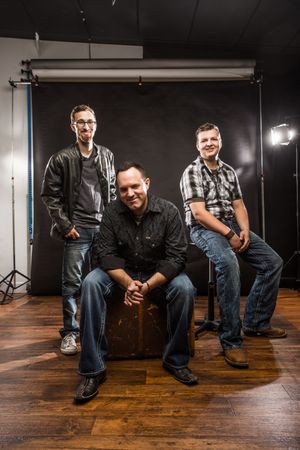 From its outset in 2013, the message of Summit Trace has struck a resounding chord – a genuine burden to reach the lost, minister to those who are hurting, and encourage the church. This purpose driven devotion continues to be delivered by some of the most talented and spirit filled young men in Christian Music. Lead vocalist Keith and his son Alex have previously toured with a number of respected Christian Music artists perfecting their God given talents in ministry and now bring that experience to the stage with Summit Trace. The result is rich, high-energy, harmonies, stirring testimonies and a message of hope conveyed by professional, sincere, compassionate servants of the body of Christ.
These men are certainly no strangers to the Christian music world having a long list of accomplishments during their vocal careers. Christian music is genetically programmed into their DNA. Each one grew up surrounded by the sound of people praising God through their musical gifts. They experienced a very impressive musical beginning even before reaching their teenage years. They sang together for several years in regional bands until 2006 when the door was opened for both Keith and Alex to begin touring with the Anchormen. During this time the group experienced continued success with Keith serving as the group's lead vocalist on several of the group's high-charting songs such as 'Reach Out To Jesus', 'Almost Time To Fly', 'Everything But Time', and 'All In A Sunday's Work'. After a four-year tenure with the Anchormen, Keith went on to join the award-winning Dove Brothers Band, while Alex began touring as a soloist. Following the call of God to begin touring together again, Keith and Alex formed Summit Trace early in 2013 reuniting their unparalleled vocal excellence and impeccable tight family harmony.
After teaming up with long time friend and outstanding musician, Justin Hamby, Summit Trace began to reserve their spot as one of the most prominent, talented new bands in Christian music. Their style and versatility have earned devoted fans all across the US. They consistently deliver an exciting energy packed concert and a message that ministers to each person individually in a way that is genuinely and sincerely felt by all, and they are committed to continue doing so for as long as God makes a way.
With the success of their debut radio release 'Better Than Ever', this group has taken Christian music and radio by storm. The song, which is produced by the award-winning Donna Beauvais King and penned by dynamic songwriter Sherri LaFontaine, showcases the vocal team's unique style and tight harmony.
Whether you're listening to Summit Trace for the first time or have been a faithful follower, you won't be disappointed. An event with Summit Trace combines talent, sincerity, and professionalism to create a memorable concert experience. Their goal for the evening is to usher in the presence of God and celebrate the Christian message. They feel privileged and honored to enjoy the freedom to honor Christ with any and all of their abilities. Their purpose is obvious. These people love great songs, know how to deliver them, and obviously love God and ministry!